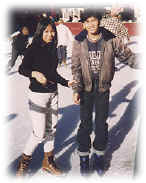 Where would you like to start?
We created a web site dedicated to our blooming love when we first re-met each other on the Net back in 1997. You'll find lots of mushy, lovey-dovey info on our relationship which will no doubt amuse you :)
We also have our own individual web sites -- visit Dony's or Lorna's. Then, there's our family tree page, where we are constantly collecting information of our ancestry. We believe that our families might have come from China as recent as 5 generations ago. We'll see.